Confront the Vulnerability
For creatives, rejecting vulnerability could be holding our creativity and greatness hostage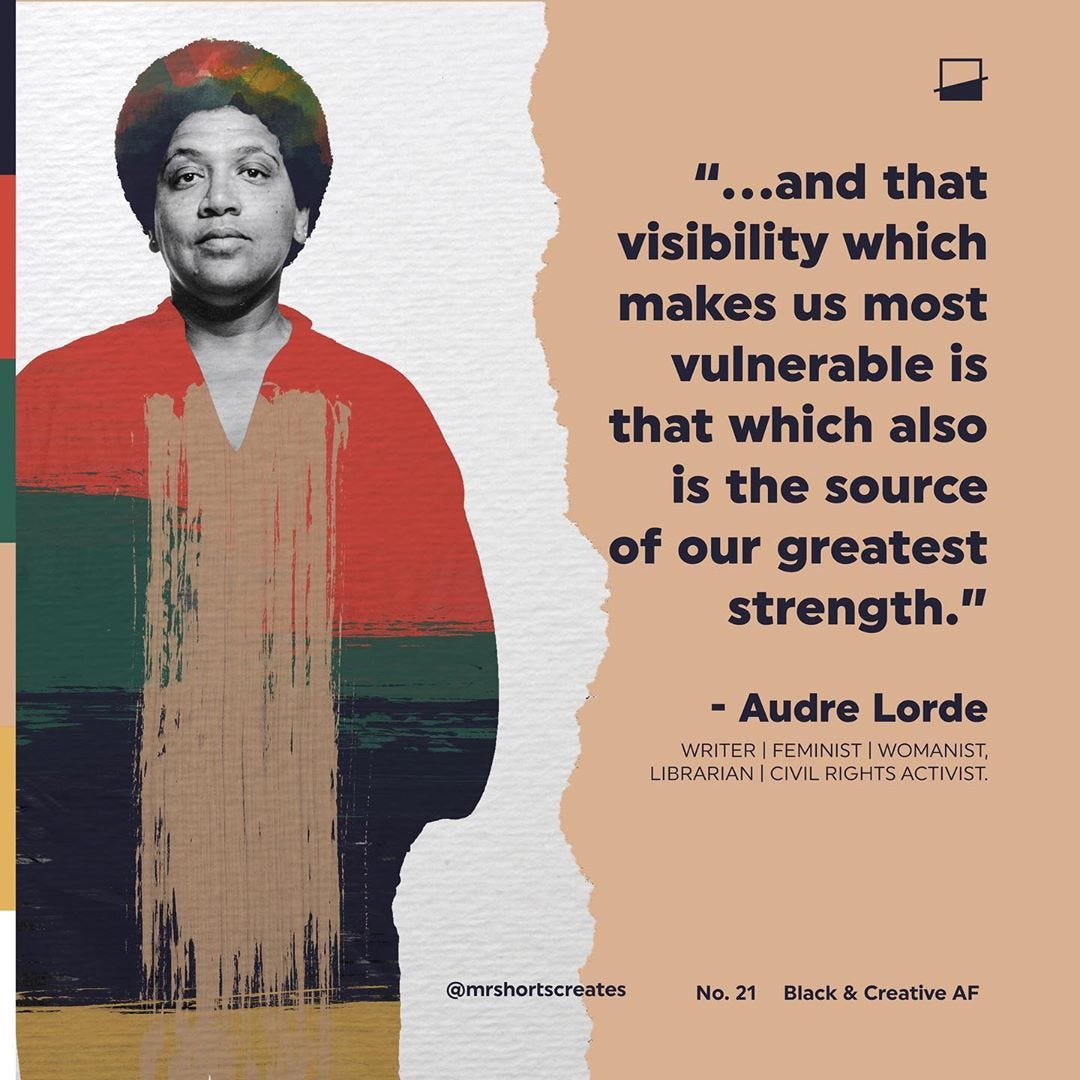 "...and that visibility which makes us most vulnerable is that which also is the source of our greatest strength."

― #AudreLorde — writer | feminist | womanist | librarian | civil rights activist.
This is a post from my Instgram series #BlackandCreativeAF you can
follow along here.
Vulnerable AF.
Being vulnerable means being confronted with the possibility of failure, shame, or hurt. It's stressful AF. Everyone at one time or another has faced being in a vulnerable position. For some of us that discomfort, failure, or shame has made us guarded so that we feel safe. Society reinforces it as a sign of weakness. For creatives, rejecting vulnerability could be holding our creativity and greatness hostage?
---
It is a matter of lens…
Is vulnerability our weakness or the moment we realized how strong we truly are? Confronting our insecurity or chasing your wildest dreams? Loss or Gain? Following the trend or creating our most impactful piece of art? The moment we lose it all or the moment our lives change for the better? The possibility of THEM hating it or THEM loving it? Vulnerability, our bully, or our liberator?
---
The question we must always ask is what is on the other side of vulnerability? 
Learning to embrace vulnerability.
Confronting vulnerability is difficult. Handle with care. Embracing it feels impossible. The discomfort is real. Failure, shame, and disappointment are possible and likely. 
The silver lining is that it is rarely the end of the story. The question we must always ask is what is on the other side of the vulnerability? 
---